Are you looking for a hotel for your dream vacation? Discover Cavo Tagoo Mykonos Resort, an extraordinary hotel in a heavenly place. 
See why it is one of the most beautiful hotels in Greece and certainly in the whole of Europe!
Discover Mykonos
According to mythology, Hercules killed giants on Mykonos, and the stones around the island are allegedly their bodies. 
Mykonos is a Greek Ibiza. 
A beautiful island in the Cyclades archipelago that looks like a postcard: small white houses with flowers and blue windows and doors, windmills, chimneys, many churches, and beautiful restaurants and cafes.
Many domestic and foreign tourists visit Mykonos every summer to enjoy some of the beautiful sandy beaches during the day and the nightlife is very developed. 
On Mykonos, you can walk along the narrow, winding streets between the houses of dazzling whiteness. It is a natural complex that gives the whole of Greece the stamp of unreal beauty.  
Mykonos is considered a destination for nature lovers and hedonists and you will really enjoy it. 
It is especially attractive for young people because it offers a lot of diverse content for day and night entertainment.
In addition to Mykonos, we recommend that you visit Santorini, another famous island of Greece. 
They are 3 hours apart by ferry so when you visit Mykonos, it's a shame not to visit equally beautiful Santorini.
About Cavo Tagoo Myconos Resort
If you are looking for an ideal accommodation from where you can start exploring Mykonos or other breathtaking parts of the amazing Greek coast then Cavo Tagoo Mykonos Resort is the best option.
Location
Hotel Cavo Tagoo Mykonos is a seductive, ultra-luxury hotel of the highest categorization, located in the caves of the Tagoo region.
The hotel has an ideal location, located 50m from the sea and only 800m from the city of Mykonos.
The couples like location in particular. They rated it 9.4 for stay as a couple!
You will be able to enjoy the magnificent view from the height in the view of the sea.
You can sunbathe and swim on one of the beautiful beaches of Myconos such as Platy Gialos, Elia, Ornos, Agios Giannis, Agrari, as well as nudist beaches Paraga, Paradise, and Super Paradise.
*Most photos are provided from official Cavo Tagoo Mykonos Instagram.
What It Offers
Rooms – Pure Hedonism
The award-winning Cavo Tagoo Hotel will enchant you not only with its extraordinary location but also with its breathtaking interior.
17 magnificent rooms will give you an unforgettable atmosphere.
Most rooms have sea views.
The beautiful and spacious rooms and villas are decorated in a minimal style, and some include a spa bath for complete relaxation and indulgence.
In-room amenities include a bathrobe, slippers, flat-screen TV, and Simmons mattresses.
Some rooms include a private pool where you can relax with a bottle of good drinks and superbly made gastronomic arrangements for complete atmosphere.
Free WiFi is also available.
Huge Pool – to Enjoy the Most Beautiful Sunset
Cavo Tagoo also has an attraction in the form of an infinity pool overlooking the sea pool with a 40 m aquarium bar.
Relax on comfortable loungers on the water and the best service while watching the most beautiful sunset ever!
Spa&Gym – in the service of beauty and health
Experience a fusion of Thai massage that will take you to the seventh heaven.
Cavo Tagoo Golden Spa offers traditional facial and body treatments, chromotherapy, sauna, steam bath, and other phenomenal salon services to make you look regal.
The fitness center next to the spa allows guests to stay in top shape during their stay.
Restaurant – the gastro paradise
Cavo Tagoo Mykonos restaurant serves Mediterranean cuisine prepared with authentic Greek products. 
In the morning, a buffet breakfast with delicious croissants and fruit dishes is served, since breakfast is included in the price.
The area around the pool lounge bar at Cavo Tagoo Hotel offers open views of Mykonos Town and an infinity pool with discolored lighting and wooden terraces that seem to float on the water.
Additional services – pamper yourself
A dedicated team of receptionists will satisfy all your wishes. 
The hotel's reception is open 24 hours a day and offers babysitting services, laundry services, and door-to-door newspapers. 
Other services include a porter and a doctor on call. Free parking is available on site.
Also included are services that will further pamper you and allow you to have a maximum enjoyment. 
The following were organized:
– Yacht rental
– Helicopter charter
– Private driver services
– Organizing special events like birthday, honeymoon or anniversary
– Photo shooting arrangements
– Private tours- Private tours
Price
Cavo Tagoo Mykonos is an extraordinary hotel where you will enjoy and have the best possible service for the money you give. 
Price of overnight stays in this exceptional hotel is about $700 per night, depending on the time of year and promotions. 
On Agoda, you often have discounts of over 10%! 
Book it now on the image below!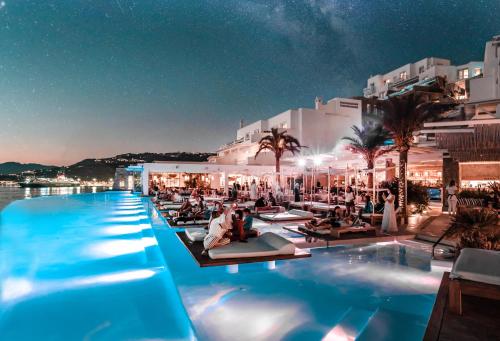 In The End
What are you waiting for to pack your bags! 
You will experience an unforgettable vacation in Cavo Tagoo Mykonos Resort that you will recount for a long time. 
Write us your experiences if you have already been in this phenomenal hotel in the comments below. 
We want to hear from you!
Some pages may contain affiliate links which means that, if you choose to make a booking or purchase, we get a small compensation at no cost to you. We greatly appreciate your support!