Welcome to the real spring month! (though not for the inhabitants of the southern hemisphere lol). 
Here we are in May, a period when we are delighted by the blooming of flowers and the first hot but pleasant rays of the sun. An ideal period for travel, isn't it? 
Libellule brings you the best places to travel in May. 
You will be amazed by the beauty of these places and you will surely wish to use this wonderful month to enjoy.
Important notice: Before you go, take a look at our COVID-19 Alert for each country, or better yet, consult the consulate in your country.
Prague, Czech Republic
Prague is rightly on our list of the best places to travel in May. 
Due to its magnificent architecture, Prague has over time become one of the most famous and most visited tourist cities in Europe. 
The word "Prague" means "Mother of all cities." Because of its beauty, it is also called the "Golden City".
Prague is a city of rich history and beautiful architecture. It has as many as 550 towers and numerous cultural monuments of all artistic styles so fans of history and architecture will enjoy it. 
We can freely say that Prague is unique in its and simply has a harmony of Baroque, Renaissance, and Gothic.
We suggest you visit Hradcany Square where the beautiful palaces of Martinic, Tuscany, Schwarzenberg, and Archbishopric are located. 
Then there is the Prague Castle, otherwise the residence of the Czech president, the Cathedral of St. Vitus, the Royal Palace, the Basilica of St. George.
You can continue your walk along Karlova Street and, of course, the far-famed Charles Bridge. 
This bridge was built in 1357 and is one of the symbols of the city. 
Rivers of tourists from all over the world pass through this bridge every day, and apart from the beautiful architecture, the special charm of this place on this bridge is made up of numerous artists, especially painters.
Enjoy the famous Prague kitchen as well. 
Be sure to try the famous Peach beer, which is world-famous for its quality, but also specialties such as irresistible ice cream or top-quality sausages!
Prague is on a par with Paris in terms of romance, so dear romantics will have a special atmosphere! 
You will not be able to feel the gentle and gentle soul of this city… It is simply a real shame not to visit this beautiful city that will enchant you with its beauty.
Libellule offers you the best price/quality hotel located in the heart of Prague. 
It is the U Prince Hotel that exudes elegance, refined style, and comfort. 
Also, the location itself gives you a big advantage when you go on a tour of beautiful Prague. 
All this gives it the highest rating and puts it in exceptional hotels!
Book by clicking on image.
Sevastopol, Crimea
It is an ideal time to visit the beautiful Crimean peninsula, which bathes in the waves of the Black and Azov Seas. 
Once known for its children's sanatoriums and student resorts, today it is a destination for millions of tourists who come to see the treasure locked in its treasuries.
Sevastopol is an unusual city that is really worth visiting. It covers an area of 864 square kilometers and is also a large port for ships. 
Sevastopol is an unusual city. It covers an area of 864 square kilometers and is also a large port for ships. 
Due to its turbulent past, its sights are mostly military-historical nature. 
After visiting Sevastopol, head northeast to Chufut-Kale, a medieval rocky town. 
The fortification was very strong, and today it looks very picturesque.
Sevastopol offers its visitors much more. 
There are many beautiful beaches in and around the city, and some of them are Crystal, Blue Bay, Victory Park, Omega Bay. 
The most beautiful beaches are near the village of Uchkuevka, which can be reached by boat. 
The beaches are very nicely decorated and ideal for enjoying.
Crimea is also known for its gorgeous and diverse nature, of which we especially single out the Yalta Reserve, which is an empire of conifers and diverse landscapes that will delight you. 
On Yalta is the particularly impressive "Swallow's Nestle" Castle that rises above the sea on a rock and offers an unforgettable view.
One of the most popular tourists on the map of the Crimean peninsula is Mount Ai-Petri, on top of which are the ruins of a church preserved to this day. 
To reach the summit of Rock (1346 meters) you take the funicular to enjoy stunning views of the Yalta Nature Reserve and the coast of the Crimean Peninsula.
We suggest you stay at the Sevastopol hotel because of its comfort, cleanliness, and service, which is rated by tourists as excellent! 
See the offer by clicking on the image.
Bali, Indonesia
How describe Bali in a few words? 
Imagine exotic beaches, lush vegetation, endless rice fields, and ancient temples. 
And all this can be found on this magnificent tropical island!
Bali is one of the most beautiful islands in the world. 
Tourism is very developed and has a large number of beautiful hotels; beautiful sandy beaches, crystal clear sea, and level service make it one of the top tourist destinations. 
The top destination also means top price. It is expensive to get to Bali, but that is why everything there is quite cheap.
Beaches in Bali are beautiful. 
Some beaches in Bali are sandy and urbanized while others are rocky and hidden, so choose depending on whether you want intimacy or good fun. 
The most popular beach and most visited resort in Bali is Kuta, located on the west side of the island. 
Kuta beach is beautiful, sandy, and two and a half kilometers long.
For lovers of Hindu religion and mysticism in general, Bali is a dream destination. 
Many temples have been preserved and are real gems of Bali. 
Ancient temples and altars were erected in the most inaccessible places which makes them magically attractive.
An hour's drive from the airport, among the mountains, is the place Ubud. 
When it comes to Ubud, Bali boasts a place known as the birthplace of the kings of the island itself. 
In the center of this old town is the royal palace. 
There are several hundred stores where you can buy handicrafts, antiques, souvenirs, textiles, paintings, and jewelry.
Be sure to visit Ubud Monkey Forest, Elephant Cave, and Goa Gajah Temple, and Tegallalang Terraced Rice Fields.
The island of Bali is full of color and life, laughter, and a good mood. It is also known as an island of crazy and unforgettable nightlife so fans of good fun will be absolutely fulfilled!
If you decide to go to Bali, the Maya Sanur Resort and Spa will provide you with a great atmosphere! 
The combination of elements of contemporary and authentic Bali styles makes this hotel special and beautiful. 
Also, it is separated only by a small promenade from the sandy beach of Sanur and will give you a dream vacation!
Book by clicking on the image.
Istanbul, Turkey
What sets Istanbul apart from all other destinations is its multiculturalism, which exudes a diverse culture, historical sights, and a creative blend of European and Asian architecture. 
You will be enchanted!
Istanbul is one of the best places to travel in May 2021. 
The city is situated on seven hills, a resemblance it shares with Rome, and on one of those hills is the grandiose Suleiman's Mosque. 
Its walls offer a great view of the city. It was built by the order of Suleiman the Magnificent in the sixteenth century and is one of the most famous mosques in Istanbul. 
There is also the Blue Mosque, an imposing building regularly visited by many tourists.
Not far from the Blue Mosque, is the Hagia Sophia, one of the most beautiful churches in Istanbul. 
It was built as an Orthodox church and was recently converted into a mosque. 
Today, Hagia Sophia is considered one of the most impressive buildings in the world.
You also inevitably have to visit Topkapi Palace, Prince's Islands, Grand Bazaar (Kapali Carsi) where you can trade cheaply.
We suggest you be sure to cruise the Bosphorus when you arrive in Istanbul. 
Cruising the Bosphorus is probably the most sought-after tourist attraction in Istanbul because that way you can see many things in Istanbul that would take you more time if you went on foot or by transport. 
Also, you will enjoy the magnificent view of the city.
The Turks are considered a friendly people, and this is best seen in Istanbul. 
This city is so popular among tourists, that the helpfulness of traders in shops and waiters in taverns is unique in the world.
We suggest you stay at CVK Park Bosphorus Hotel, a beautiful hotel overlooking the Bosphorus. 
Favorable price, beautiful ambience, and excellent service make it one of the best hotels in town. 
See for yourself!
Of course on Agoda, you can explore many more great hotels depending on the availability of your budget.
Sharm El Sheikh, Egypt
Sharm El Sheikh is a small town and one of the most popular resorts in Egypt. 
The resorts of Sharm el Sheikh are beautiful, exotic, and most luxurious, while the hosts are extremely hospitable. 
The beaches are characterized by fine, golden sand, while the sea is warm and full of pleasant surprises in the form of coral and the underwater world, which can rarely be seen anywhere else.
May is an ideal period to visit because the summer periods are very warm and with high humidity, it is quite unbearable to stay.
Sharm El Sheikh is a coastal city and is known for its clear, blue waters. 
The picturesque underwater world of this resort is one of its main features and represents what makes the resorts in Egypt special concerning other popular destinations. 
You will see fascinating coral reefs and exotic sea animals.
If you want shopping and a lively atmosphere, visit the Old Town where you will get to know the typical Arab culture and enjoy the realm of form, smell, and taste. 
Libellule also suggest that you try a traditional oriental ritual, such as bathing in a hammam, which will have a beneficial effect on your body, soul, and mind.
Sharm El Sheikh is full of luxury hotels but also those with people on a smaller budget.
After a full day of enjoying the sandy beach, you will enjoy the sunset in the desert and the view of the starry sky. 
You can experience this experience if you go on a trip from Sharm el Sheikh to the desert where you will be accommodated in a special place in the open, in the beautiful Sahara, and then look at the fascinating celestial scenes.
If you want a combination of luxury, elegance, and comfort, we suggest the Renaissance Sharm El Sheikh Golden View Beach Resort, which offers you real enjoyment for only sixty dollars. 
It has nicely equipped rooms, a swimming pool, private beach, hot tub, great restaurant and much more that will please you.
Book by clicking on the image.
Roma, Italy
Rome or as it is popularly called the "Eternal City" is without a doubt one of the most beautiful cities in the world; every year, millions of tourists from all over the world come here to admire the treasures and masterpieces of Roman art and architecture. 
This is an ideal period to visit because the unbearable heat during the summer and the large crowds make Rome almost unbearable.
Rome is divided into several districts, the so-called historic center is very small, occupying only 4% of the entire city area – but this is where most of the city's attractions are located. 
We single out only what you must see and we assure you that if you decide for this destination this spring, you will have a dream vacation!
You must visit the famous Colosseum, which is the largest amphitheater of ancient times and a jewel in the crown of Italian and world history. 
In 2007, the Colosseum was included among the seven new wonders of the world.
There are also the beautiful Michelangelo Square, the Trevi Fountain, the Sistine Chapel, the Vatican, and many other cathedrals and churches that represent a real-world treasure.
Rome offers you so many beautiful things to visit and see. 
For romantics and lovers, we suggest a walk through the charismatic part of the city of Trastevere, which is ideal for walking through the winding streets, lightly sipping coffee in one of the many squares.
As for the lookouts, one of the best breathtaking views can be captured from the top of the building dedicated to Vittorio Emanuel.
The richness of history and art that Rome has at its disposal is impressive! 
This is supported by the fact that no one knows the exact number of churches, cathedrals, and basilicas in Rome, but many estimates indicate that there are over 900!
Rome is known as an expensive city but if you explore wisely you can find affordable accommodation for a decent price that will not give you any less luxury than some much more expensive hotels. 
One such is the Princeps Boutique Hotel. 
Click on the photo to see amazing offer. Hurry up to book because it is in high demand!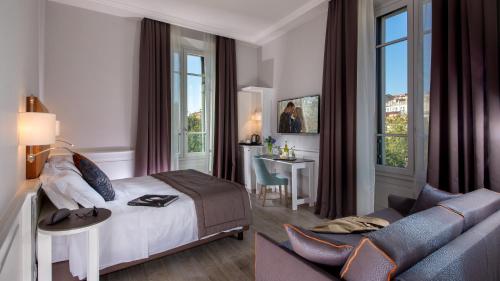 Cancun, Mexico
If you want relaxation for the body and soul we take you to Mexico. 
In the last 20 years, Cancun has developed from a small fishing town into one of the world's most famous summer resorts. 
With its long sandy beaches and turquoise-blue color of the sea, it is a real pearl of the Caribbean.
As many as 150 hotels are located on the 23 km long coast, from less luxurious, through world-famous hotel chains such as Intercontinental, Hilton, Hyatt, to the most luxurious Moon Palace hotel. 
In a city that never sleeps, good parties are guaranteed in clubs like Coco Bongo, Playboy, Mandala, so that fans of good night entertainment will be delighted.
In addition to good fun and the beautiful Caribbean Sea, Cancun also has cultural and historical monuments. If you are a fan of history, Museo Maya de Cancun is the right place for you. 
In this museum you can learn a lot about the Mayan people and their civilization.
During the day, various types of activities are available, such as water skiing, paragliding, diving, socializing with dolphins, or close encounters with sharks. 
There are also luxury shopping malls and numerous restaurants of all world cuisines.
We recommend an exceptional hotel Grand Fiesta Americana which on Agoda has a great discount for booking. 
Take advantage of it and enjoy the top service, ambiance, and sea view that will pamper you!
Book it now by clicking on the image.
Munich, Germany
Munich is known for its beautiful architecture, culture, and the Oktoberfest beer festival. 
Munich is also a large international center of business, engineering, scientific research, and medicine, as evidenced by the fact that there are a large number of universities, headquarters of multinational companies, and science museums.
In the historical complex of buildings, which for centuries was the seat of the Bavarian rulers, there are a large number of museums and monuments, the most famous of which are the Residential Museum, the Treasury, and the Church of All Saints. 
Be sure to take a walk in the beautiful garden, which contains many types of flowers, fountains, and ponds.
There are also the Frauenkirche, which fascinates with its size, and the English Garden, which is also the largest park in Germany. 
Here you can enjoy a picnic, sunbathing, a long walk, or cycling in nature and thus enjoy the spring to the maximum.
In addition to these places, do not miss visiting the main city square Marienplatz and the BMW Museum.
For accommodation, we recommend the low-budget and well-rated hotel Bento Inn Munich where you can enjoy a great atmosphere and service for less money! 
Prices range around 40 dollars for two people one night!
See offer!
Instead of The End
If you have not already planned your trip for May, be sure to consider visiting some of these places. You will never regret and will retell your experience for a long time. 
Especially during a pandemic. 
You recharge your batteries and feel a real refreshment for body and soul!
If you have already been to one of these beautiful places and want to share your impressions, write to us in the comments below or send us your story via Share your story. 
We are looking to hear from you!
Some pages may contain affiliate links which means that, if you choose to make a booking or purchase, we get a small compensation at no cost to you. We greatly appreciate your support!